Posted on 12, October 2022 03:07:14 PM
---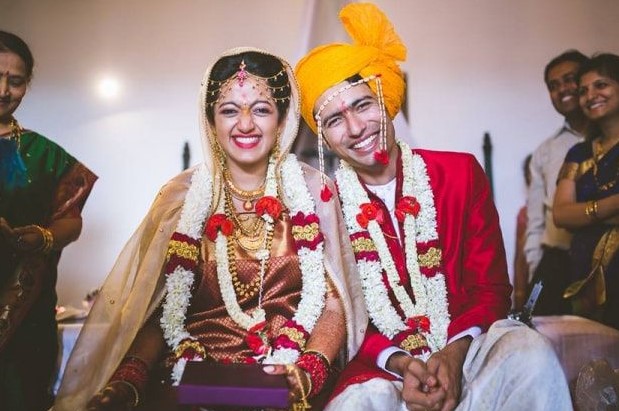 ---
Welcome to EdigaMatchmaker
A typical Lingayat community wedding starts with an engagement ceremony and ends with a reception and the in-betweens are all about meaningful ceremonies.
The traditional engagement ceremony for this community sees the bride partaking in coconuts, sweets, and a traditional wedding ceremony saree from the groom's family.
More conservative Veera Shaiva or Lingayat are strict about the matching of horoscopes. If the horoscopes predict a fateful union a mere formality the exchange of gifts proceeds. Horoscope matches, as done with the Lingayat community, are also seen in many other traditional wedding ceremonies - from the Marathi wedding ceremonies to the Tamil wedding rituals.
The groom doesn't leave empty-handed, having accepted sweets and a wedding dhoti from the bride's side of the family, and the wedding date is fixed. No Lingayat community wedding ceremony is complete without a Pooja to have a smooth celebration. 
The Nandi Pooja, as it is called, is an event for the bride and groom to show their devotion to each other and Lord Shiva, the Lingayat community's deity. 
The Kashi Yatra is a time for relatives and friends of the couple to regale themselves. It's role-playing time for the Lingayat community groom he pretends that he has not found a suitable bride and will take a pilgrimage to Kashi. The bride's uncle then shows a photograph of her to the groom, convincing him to stay back. Filled with jokes, the ceremony is nevertheless marked by traditional South Indian food and is a kick-off for the actual marriage ceremony. The attire is usually silk, a saree for the bride and a Veshti and kurta for the groom and adorned with traditional jewelry. The groom awaits the bride at the mandap and after the bride, escorted by her uncle arrives - the actual wedding takes place. Separated by a white cloth, the couple is anxious to take a peek at each other. The couple exchange holy ritual marriage vows and the groom's Angavastram is tied to the bride's saree. The couple circles the holy ritual fire seven times reciting the seven special sacred mantras. The groom then holds a Lingayat Mangalasutra around the bride's neck, which is tied by five married women themselves adorned with Mangalasutra. Imagine the feeling of happiness and anticipation while both the bride and groom wait to lay their eyes on each other! The guests feast after a tiresome and eventful wedding ceremony, and it's time for the bride to take leave. This is called the Kanyadanam, it is marked by the father of the bride, who places the bride's right hand in the groom's right hand. Shedding tears, it's time for the emotional bride to take flight from her parent's abode.
I like the post? Like this!